I have a very short cooking week this week - just Monday, Tuesday and Wednesday! We are leaving Thursday morning for a nice, long vacation! My son and I will go down to my sister's house, which for me is like going to a resort. They have extra bedrooms so I will have my own, plus lots of birds and wildlife coming to visit which are fun to watch with a warm cup of coffee from their living room. I am really in need of this rest and relaxation leading up to the Thanksgiving holiday. It is a great time to slow down and reflect on all the Lord has blessed us with!
Click here to see what others are making this week!



Monday


Ring Bologna with Parmesan Potatoes (see recipe for potatoes below!)



Tuesday


Beef Squash Casserole



Wednesday


Hoppin' John



Thursday
Leave for Chicago suburbs and start to vacation!!

Here's a quick recipe for the Parmesan Potatoes mentioned above:
Preheat oven to 350 degrees. Boil a large pot of water and boil the potatoes for 4-5 minutes. Remove from water and let cool. Once cooled, slice into quarters and combine with olive oil, garlic powder, sea salt and black pepper as well as the Parmesan. Mix thoroughly and place in a baking dish that has been sprayed with olive oil cooking spray.
Place into the oven and roast for 20-25 minutes. Remove from the oven and taste, re season with sea salt, cracked pepper, or garlic powder if needed. Garnish with fresh chopped parsley. Enjoy.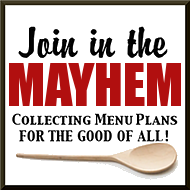 Thanks for visiting!